Lot of 6 pairs vintage 1950's Earrings #CJ9018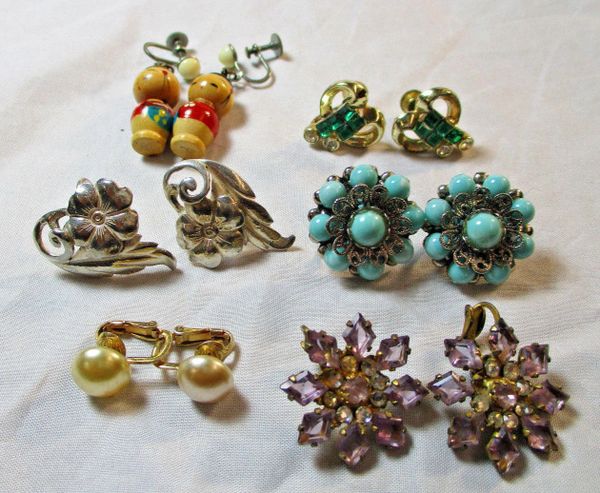 Lot of six pairs of vintage 1950's earrings.
1) Sterling flowers screwback. Marked Sterling on post. Measure 1" x 1".
2) Purple and white jewel snowflake clip ons. One white rhinestone is missing from center ring of one earring. Measure 1" across. Marked Sterling on post.
3)Adorable handpainted wood Japanese dolls screwback. Measure 1 1/2" long. Marked Japan on bottom
4) Goldtone Green and white jewel screwbacks. Unmarked. Measure 3/4" x 5/8"
5) Champagne colored pearl clip on. Unmarked. Measure 5/8" x 3/8"
6)Silver filigree and faux turquoise screw backs. Unmarked. Measure 1" across.
All pairs have tight backs and in very nice condition.